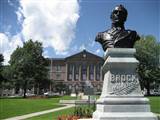 Click on above images to view full-size.
Municipal Address: Court House Green
Legal Description: Lot 16, Block 31
Designation By-law: #166-79
Designation Report: Report
Sculptor: Hamilton McCarthy
Designated for historical and architectural reasons. The monument is surrounded by a bust of General Sir Isaac Brock, a distinguished soldier who played a leading part in the defence of Upper Canada in the War of 1812. The City of Brockville is named for him. The monument is an attractive one in a prominent central location in the City.

View Gen. Isaac Brock Monument in a larger map